Overview
The Battle of Marathon plaque can be seen at Keys Fisheries, built on the site of an important part of the battlefield. Just a little up the road is MM (Mile Marker) 48.7 and people often wonder why such a specific place is highlighted. In fact, it is the point where, by tradition, the most intense fighting took place.
We chose this site for the plaque because of a critical skirmish whereby certain rebels snuck behind enemy lines and undermined the Conch Republic left flank. The Conchs had not protected that area because they had vicious trained Tarpon close to shore, but the rebels chummed the water and moved past.
Access
Keys Fisheries
3502 Gulf View Ave
Marathon, Florida
Pretty much right off Route 1, on the Gulf Side
Order some of the delicious stone crab and as you wait you can read the plaque. It is on the wall of the Keys Fisheries office.
Public Dedication
A nice toast and some delicious crab!
This was Kcymaerxthaere installation #007, the first in nPhlorida and the seventh in what we call the United States.
Installed January 15, 2005 at 6:00PM.
We were able to have a nice slide show in the dusk and talk about the historical context of the battle and what it did to the territorial ambitions of the Conchs.
Text of the Marker
The part of the story installed here:
Battle of Marathon
Marathon represented the furthest eastern extension of authority of the Conch Republic under its charismatic general Qui Xi. However, her defeat here at the Battle of Marathon (traditionally MM 48.7) represented the beginning of the end for Xi and her patron, Consul Ar Switlik. Within five years, the Consul was disgraced, Xi had died in notoriety and in battle, and the Republic's borders had collapsed back to MM 20, never to extend this far again.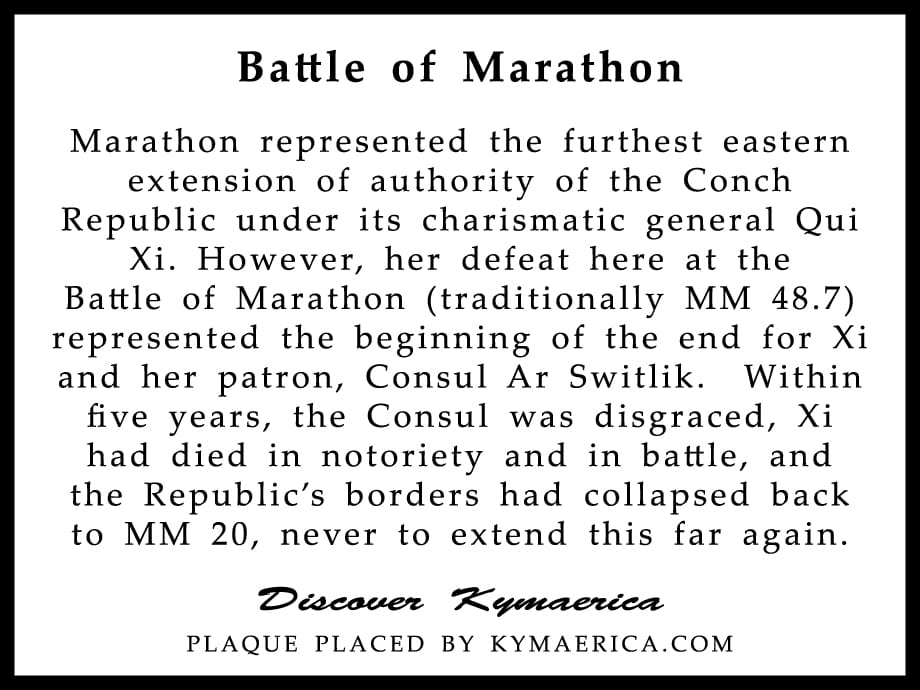 Keys Images
Images of the area around where the installation site is located in the Florida Keys.
Keys Fisheries Images
Images of the Keys Fisheries restaurant where the plaque is located.
Gallery
View All
Related Stories
A Few Storied Cultures of the Xthaere