Overview
Access
Public Dedication
This was Kcymaerxthaere installation #129 and the ninth in what we call the United Kingdom.
Text of the Marker
The part of the story installed here:
Eliala's 4181st Start
Eliala Mei-Ning, she of the voice whose beauty could not be concealed, had been sole witness to the murder of Li Thaat by the Puhnee, a thuggish organization from her native gwome of Shagree. She was cherishing her 2584th new life when those same cruel maligns tracked her down yet again. Singing under other names had become a useless veil. Desperate, she demanded a new safe harbor with terrible, raging storms which could drown out her voice—and so Shagree's Witness Protection force sent her here. Eliala vowed that this, her 4181st place of refuge, was her Shagree protectors' last chance. When the fiercest storm of the season arrived, escalating relentlessly, she let herself relax and sang into the shrouding safety of that turmoil—but soon smiled sadly as the seas themselves were calmed by the beauty of her voice. A fisherman facing certain death suddenly found a course to safety in the easing waters and naturally told everyone of the purest siren songs from the bluff that had saved his life. That could be none other than Eliala. Soon such rumor was in the ears of the Puhnee but, sooner still, she was on the run again, looking for that next: her 6765th new life. She shed her protectors and, to her great surprise, felt surer than she had since that aching moment of witness. This was to be her fate: the moment she expressed her true self, she would become a fugitive once more. And Eliala utterly embraced it.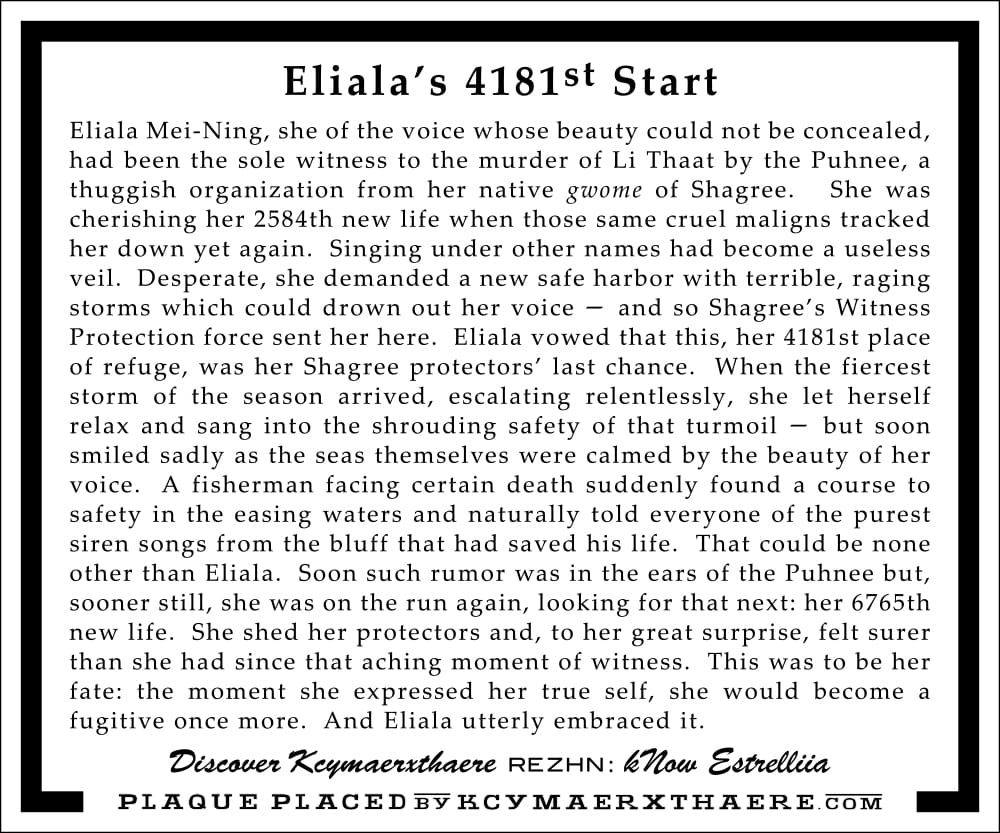 Gallery
View All
Related Stories
Eliala Mei-Ning