Overview
Access
Public Dedication
This is what is written there in English . . .
Interdimensional Hopscotch
A generation of generations ago, three parts of the world which to us seem quite distant—this place, a desert in what we call America, and an island in linear Indonesia—were each just one stride apart. On that to us far island, Eliala Mei-Ning, the singer whose voice was too beautiful to be hidden, and the only witness to a terrible crime, was nearly captured by thugs finding her at her 89th place of hiding. Desperate, she raced to an Oklnau, an unnerving sort of border— more like a kind of window that essentially erases the neighboring rezhn's landscape so only a different, quite distant border is present, let alone visible. But Eliala began to sing, so beautifully that those lands briefly returned and she stepped into them. Safely across, her voice pivoted to a deep, visceral note of such resonance that the Oklnau reasserted itself, blocking her pursuers. With her next stride, almost a skip, across still more dimensions and jemvelac (qualities of existence), she was in that desert for a transporting beat. Then, with a last hop, she was safely here, and soon in the embrace of the family Sakknuss¥æmm.
. . . and Icelandic text . . .
Víddaflakk
Fyrir fjölmörgum kynslóðum á kynslóðir ofan voru þrír hlutar veraldar sem okkur kann að virðast býsna fjarri hver öðrum— staðurinn hér, eyðimörk á meginlandi því sem við köllum Ameríku og eyja í hinni línulegu Indónesíu—ekki nema eitt skref hver frá öðrum. Á þeirri eyju sem okkur virðist fjarlæg munaði litlu að hrottar handsömuðu Eliala Mei-Ning, söngkonuna með röddina sem var of falleg til að fela og sem verið hafði eina vitnið að hræðilegum glæp, þar sem hún var í felum á 89da felustaðnum sínum. Í örvilnan flýði hún til Oklnáar, skelfilegra landamæra sem minntu meira á eins konar glugga sem í raun eyðir landslagi nærliggjandi rezhnsar svo að eingöngu annars konar, nokkuð fjarlæg landamæri verða eftir og þau ekki einu sinni sýnileg. En Eliala hóf upp rödd sína og söng svo fallega að þessar lendur birtust stuttlega aftur og hún steig inn í þær. Þegar hún var komin þangað heilu og höldnu breyttist rödd hennar í djúpan hljóm af svo miklum styrk að Oklnáin tók aftur á sig mynd og hindraði þá sem eltu hana. Með næsta skrefi valhoppaði hún milli enn fleiri vídda og jemvelaka (tilvistareiginleika) og var stödd í þeirri eyðimörk eina tilflytjandi örskotsstund. Með síðasta stökkinu kom hún svo aftur hingað heilu og höldnu og var brátt í faðmi Sakknuss¥æmm fjölskyldunnar.
. . . and Bahasa Indonesia
Main Jingkat Antar Dimensi
Beberapa generasi yang lampau, tiga bagian dunia kita yang tampak saling berjauhan —tempat ini, gurun pasir yang kita sebut sebagai Amerika, dan sebuah pulau di garisan kepulauan Indonesia —sebenarnya hanyalah terpisah satu langkah di tempat ini. Di pulau yang terkesan jauh itu, Eliala Mei-Ning, biduanita yang suaranya terlalu merdu untuk disembunyikan, menjadi saksi tunggal untuk kejahatan yang mengerikan. Ia hampir tertangkap pemburunya, yang menemukannya di tempat persembunyian ke-89. Putus asa, ia berlari ke Oklnau, suatu perbatasan yang menakutkan —yang nampak seperti jendela yang menyamarkan bentangan darat rezhn, dan justru menampakkan perbatasan lain yang berjarak jauh . Namun Eliala mulai bernyanyi begitu indahnya, sehingga berhasil memunculkan kembali bentangan tersebut, cukup lama agar dia dapat melangkah ke dalamnya. Setelah berhasil menyeberang, suaranya berputar, mendalam menjadi suatu getaran nada, mengembalikan Oklnau seperti semula, sehingga menghalangi para pengejarnya. Ia lalu melangkah, hampir meloncat, melewati ruang dan jemvelac (kualitas eksistensi) lainnya, dan untuk sesaat, ia berada dalam gurun tersebut. Dan dengan suatu lompatan terakhir, ia berhasil tiba di sini, dan berada dalam lindungan keluarga Sakknuss¥æmm.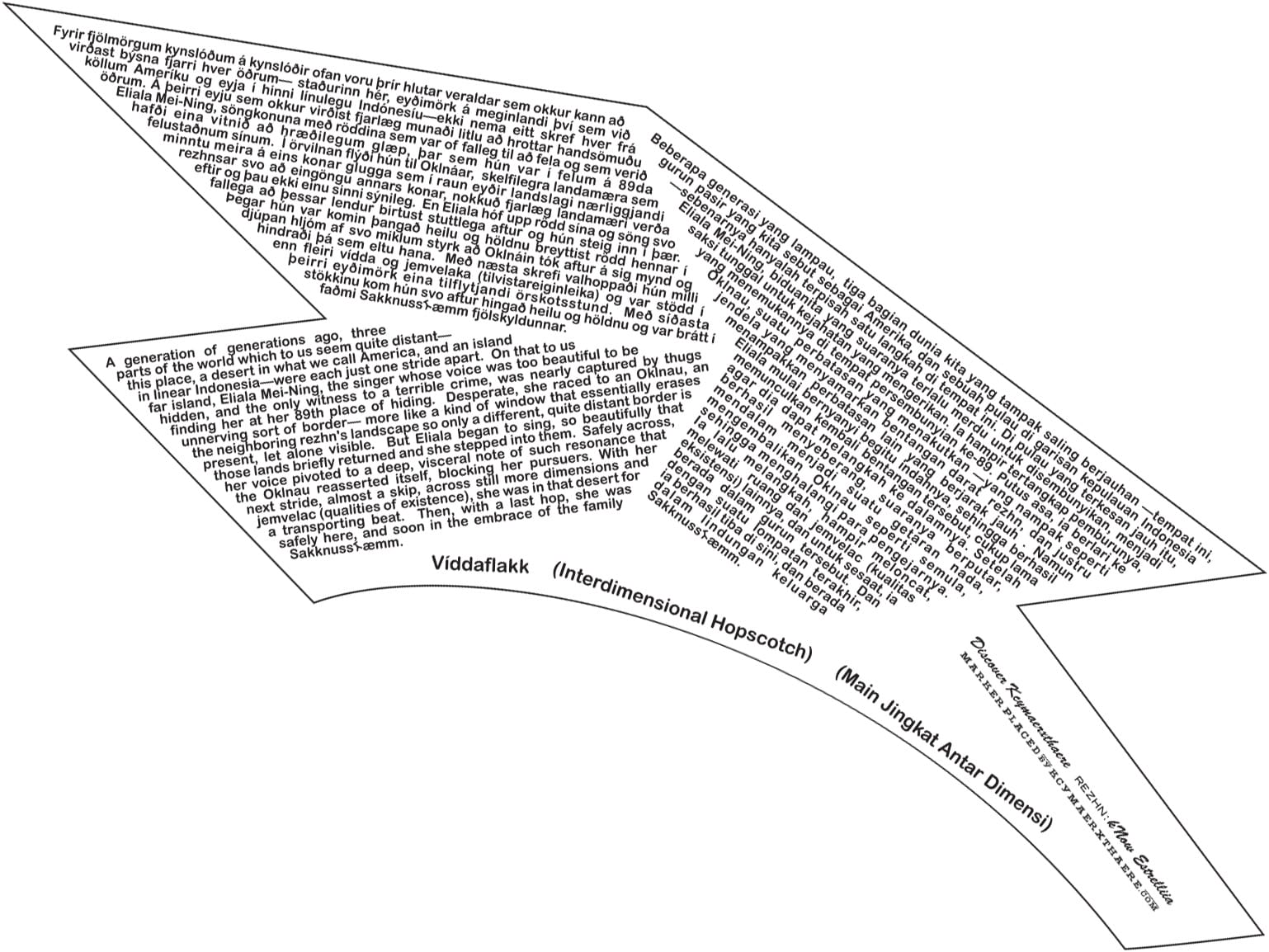 Gallery
Related Stories
Eliala Mei-Ning
Víddaflakk (Interdimensional Hopscotch) Main Jingkat Antar Dimensi